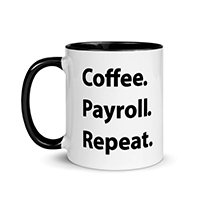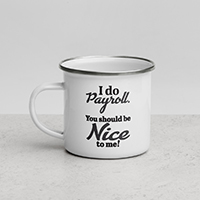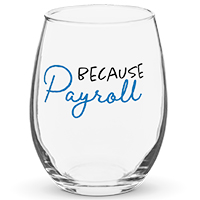 Wine Glasses
With its simple and sleek design, this glass is the perfect companion for all occasions, from casual gatherings to milestone celebrations.
Price: $13.00

Designs available:
NEW! Because Payroll
NEW! I need my glasses to do payroll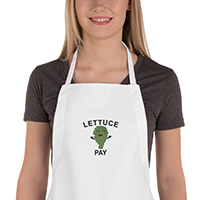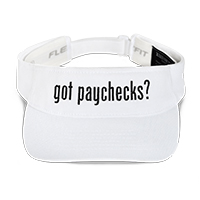 Visor
A visor is perfect for the days when you're not in the mood for a cap, but you still want to protect your eyes from the blinding sun. Made of a quick-drying fabric, it'll be perfect for sports activities or just a casual stroll. Made of 97% polyester/3% spandex.
Price: $25.00

Designs available:
Embroidered phrase "Got paychecks?"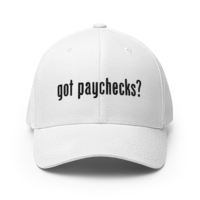 Structured Cap
The Flexfit structured cap has an athletic shape, a curved visor, and silver underside. It comes with an elastic band for maximum stretch and comfort. Each design comes in two sizes.
Price: $23.00

Designs/sizes available:
Got paychecks? S/M | L/XL
Think. Breathe. Payroll. S/M | L/XL

Size Chart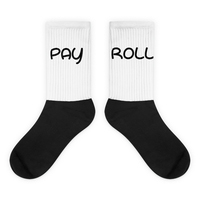 Socks
These socks are extra comfortable thanks to their cushioned bottom. Keep your feet warm while you process payroll! Each design comes in three sizes.
Price: $13.00

Designs/sizes available:
Sock it to payroll errors M | L | XL
Pay Roll M | L | XL
I make payroll sexy M | L | XL
I love (heart) payroll M | L | XL

Size Chart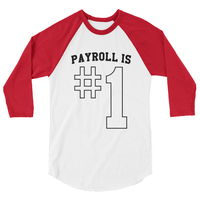 Baseball Tee
A stylish spin on the classic baseball raglan. The combed cotton blend on this tee makes it super soft, comfortable, and lightweight. Each design comes in five sizes.
Price: S,M,L,XL - $22.00, XXL - $24.00

Designs/sizes available:
Payroll is #1 S | M | L | XL | XXL
I'm a MVPP S | M | L | XL | XXL
No Crying in Payroll S | M | L | XL | XXL

Size Chart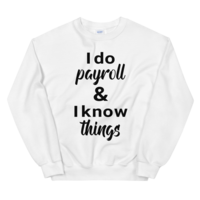 Sweatshirt
This white sweatshirt is the perfect addition to any wardrobe. It's made from air-jet spun yarn and quarter-turned fabric, which eliminates a center crease, reduces pilling, and gives the sweatshirt a soft, comfortable feel. Each design comes in five sizes.
Price: S,M,L,XL - $30.00, XXL - $32.00

Designs/sizes available:
I do payroll and I know things. S | M | L | XL | XXL
I make the "pay" in payday happen. S | M | L | XL | XXL
I'm too cold to payroll today. S | M | L | XL | XXL

Size Chart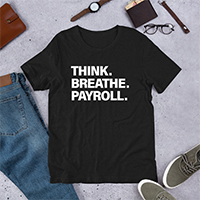 Unisex Black Tee
This tee shirt feels soft and light, with just the right amount of stretch. It's comfortable and the unisex cut is flattering for everyone. Each design comes in five sizes.
Price: S,M,L,XL - $20.00, XXL - $22.00

Designs/sizes available:
Think. Breathe. Payroll. S | M | L | XL | XXL
I make payroll sexy. S | M | L | XL | XXL
I love (heart) payroll. S | M | L | XL | XXL
Payroll = essential S | M | L | XL | XXL
I do payroll. I'm a pretty big deal. S | M | L | XL | XXL
I do payroll. You should be nice to me! S | M | L | XL | XXL
Not all heroes wear capes. Some do payroll! S | M | L | XL | XXL

Size Chart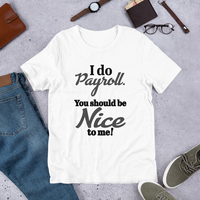 Unisex White Tee
This tee shirt feels soft and light, with just the right amount of stretch. It's comfortable and the unisex cut is flattering for everyone. Each design comes in five sizes.
Price: S,M,L,XL - $20.00, XXL - $22.00

Designs/sizes available:
NEW! PayrollOrg Logo S | M | L | XL | XXL
I do payroll. You should be nice to me! S | M | L | XL | XXL
Think. Breathe. Payroll. S | M | L | XL | XXL
I make payroll sexy. S | M | L | XL | XXL
I love (heart) payroll. S | M | L | XL | XXL
Payroll = essential S | M | L | XL | XXL
I do payroll. I'm a pretty big deal. S | M | L | XL | XXL
Not all heroes wear capes. Some do payroll! S | M | L | XL | XXL

Size Chart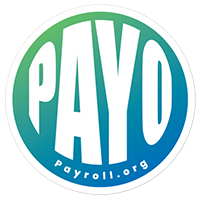 PAYO Stickers
These 4" x 4" stickers would be a great to stick on your laptop, cell phone, or as an addition to your sticker collage or collection. They are made of durable vinyl, perfect for indoor use.
Price: $4.00

Designs available:
NEW! Round
NEW! Rectangle
NEW! Slanted
NEW! Black and White