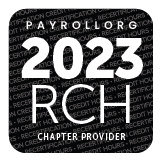 Individuals who wish to earn Recertification Credit Hours (RCHs) to recertify their current payroll certification can do so through PayrollOrg local chapters. Local chapters conduct chapter meetings and statewide or regional payroll conference workshops that qualify for RCHs.

All chapter study groups and events (excluding regular meetings) must be registered with Chapter Relations 45 days in advance and prior to requesting a speaker or RCH approval.
---
Awarding RCHs
PayrollOrg requires that chapters providing payroll education enroll in the program to become designated as an approved local chapter to offer RCH-eligible events. The process requires the submission of all chapter-sponsored study groups, meetings, seminars and/or conferences to the Certification Department for approval. Changes or additions also must be submitted for approval.
For a detailed explanation of the Local Chapter RCH program and the application form, please see the full information packet.
If your chapter plans to award RCHs, please submit a completed Local Chapter RCH Program Application to [email protected].
Download the Chapter Information Packet
---
Questions?
Contact the Certification Department at (210) 226-4600 or [email protected].